The Molineux name originates from Benjamin Molineux. a successful local merchant, owner of George John Scipio Africanus (and a distant relative of the now extinct Earls of Sefton). In 1744, purchased land on which he built Molineux House (later converted to the Molineux Hotel). Eventually he would built the Molineux stadium on this site.
The estate was purchased in 1860 by O.E. McGregor, who converted the land into a pleasure park open to the public. Molineux Grounds, as it was titled, included a wide range of facilities including an ice rink, a cycling track, a boating lake and an area for football.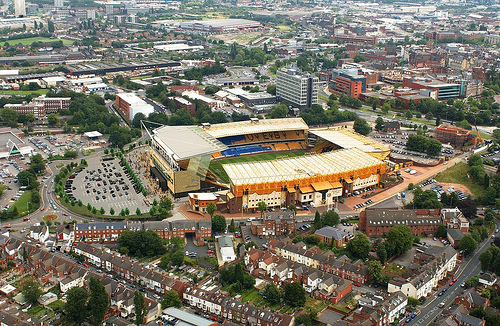 The grounds were sold to the Northampton Brewery in 1889, who rented its use to Wolverhampton Wanderers, who had previously played at Dudley Road. After renovating the site, the first ever league game was staged on 7th September 1889 in a 2–0 victory over Notts County before a crowd of 4,000.