The Black Arts Movement
Eddie Chambers, Donald Rodney, Marlene Smith and Keith Piper were the founders of the Black Arts Movement.
The Group's first exhibition was titled: 'The Pan Afrikan Connection' went on a tour to Trent Polytechnic in Nottingham, The Africa Centre in London and King Street Gallery in Bristol. The British media followed the exhibition with interest. The Group made other national tours of their work which tended to attack racism from a Pan Africanist perspective.
The Black Art Movement's philosophy through their art inspired the formation of the Association of Black Photographers. The Movement inspired future generations of artists and impressed institutions into focusing more on Black artists.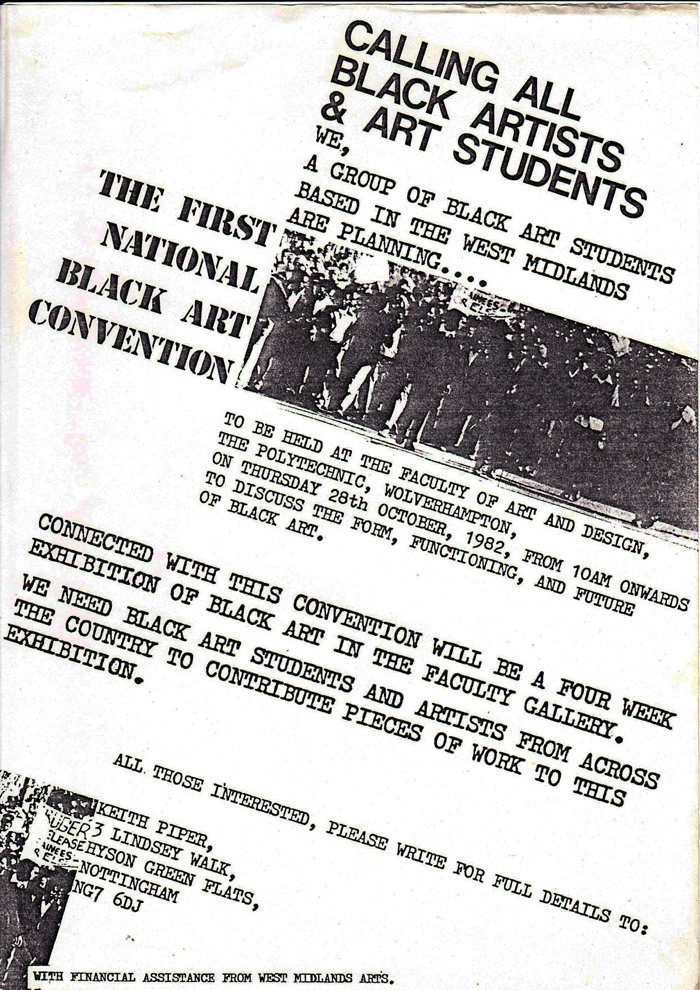 In 1989 the Hayward Gallery in London were inspired to conduct a survey of Black and Asian artists. The survey was titled: 'The Other Story'.
"Professor Eddie Chambers and the other members of that group deserve a lot of credit for their pioneering work in the development of Black Visual Arts in Wolverhampton, locally, nationally  and internationally". [Eric Pemberton, 03-06-2016]
Black Art in Focus
This was an overdue exhibition held at the Wolverhampton Art Gallery in 2016, of newly acquired work by Black British artists, purchased through the Heritage Lottery Fund Collecting Cultures programme.
On display were prints, drawings and paintings by artists from the Wolverhampton born Black Arts Movement of the 1980s and 90s. Works by artists such as Keith Piper, Donald Rodney, Tam Joseph, Claudette Johnson and Chila Kumari Burman were displayed. Oil paintings by Kimathi Donkor was also on show, as well as work by Chris Ofili, the first bBack British artist to win the Turner Prize.
The exhibition continued until 9 July 2016.