Black Local History & Cultural Archives
The Black Local History & Cultural Archives Project (BLHCAP) collects and manages an archive on BME communities in Wolverhampton. The archive is generally referred to as the 'Cultural Archives Collection'.
The archives collection span a period of seven decades and comprise a wide variety of ephemera reflecting the history of the presence of Black and South Asian peoples in Wolverhampton. Materials include newspaper articles, letterheads, documents from voluntary organisations, photographs, letters and oral recordings.
We hold a small but growing collection of over 50 objects ranging from socially historic items to more contemporary items, which reflect the rich diversity of expression by and about the people of the African Diaspora. Much of the collection was acquired by BLHCAP members. Some items were donations from the public.
A variety of the materials from the archive and artefact collections have been used to support our educational and outreach work.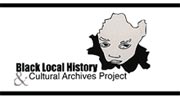 The current content of the archive reflects BLHCAP's history as a local volunteer led grass roots organisation which sought to collect and preserve material encompassing the range of experiences of African and African-Caribbean people and their descendants. We are filling a gap left void by statutory sector archives. As our collection continues to grow, BLHCAP will remain true to documenting this breadth of experience, whilst refining its focus to concentrate on preserving materials from the 20th century through to contemporary times
Volunteers are needed to research some of the objects from the history collection in greater detail, catalogue the artefacts and increase our knowledge about the collection. Tasks include:

Photographing
Recording detailed information on catalogue cards
Researching the artefacts or the makers/donors information
Creating object files with extended information
Entering information on computer
If you want to participate in the work of BLHCAP,
Please contact BLHCAP on (0)7806 461 828,

E-mail Address : Blacklocalhistory@live.co.uk