Black History Month Archives
Black History Month is held every October in Britain. The aims are to promote knowledge of black history and experience, circulate information on positive Black contributions to British Society, heighten the confidence and awareness of Black people in their cultural heritage.

Therefore we have a collection of Wolverhampton Black History Month programmes spanning over a period of seven years. We endorse the recycling of our brochure and would encourage you to pass it on to others to read when you have finished with it.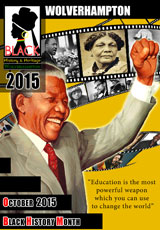 Black History Month Booklet Issue 2015
The pdf archive collection span a period of six years and comprise a wide variety of ephemera reflecting the history of black peoples in Wolverhampton.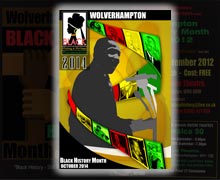 Black History Month Booklet Issue 2014
The pdf archive collection span a period of six years and comprise a wide variety of ephemera reflecting the history of black peoples in Wolverhampton