Black History Month Conference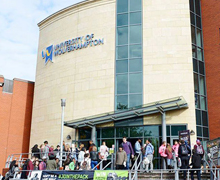 Black History Month Conference
Organiser: University of Wolverhampton & City of Wolverhampton Council
Thursday 19th October 2017
Ambika Paul Building, City Campus, Wulfruna Street, Wolverhampton, WV1 1LY.
To celebrate Black History Month the University of Wolverhampton will be holding a day of lectures, workshops and discussions covering the role of Black people in today's society and throughout history.
A key theme will be looking at the role that Black people play in today's turbulent political climate. We will hear from the New Statesman's Stephen Bush about what the recent General Election meant for Black people across the UK.
Stephen Bush is one of the UK's leading political journalists, his work has also featured in the Guardian, Independent, London Evening Standard, and the BBC
The University will also be talking about how staff and students, as well members of the general public, can support its efforts to improve the University experience of BAME and Other Ethnic Minority staff, students and visitors
The day will run from 10am to 4pm but people are welcome to attend for only part of the day if that is convenient. Lunch will be provided to conference attendees.
Black and Asian councillors will part-take in a workshop that gives an insight into how they got involved in politics, what being a councillor entails, etc and how BAME's could make a difference in getting involved in civic life. Attendees will have the opportunity to ask questions.
Black History Month Conference
Thursday 19th October 2017
Ambika Paul Building, City Campus, Wulfruna Street, Wolverhampton, WV1 1LY.
Time : 10.00 am to 4.00 pm
Cost: This event is free for everyone to attend
To avoid disappointment please reserve your place through our electronic booking page that can be found at https://www.eventbrite.co.uk/e/university-of-wolverhampton-black-history-month-conference-tickets-36538974055.
The Workshop will take place from 2.00 pm to 3.15 pm in the Ambika Paul Building. This workshop is organized jointly by the City of Wolverhampton Council and the University of Wolverhampton.
Disabled Access: Yes
Open to Public: Yes
For further information contact Delva Campbell on 01902 554081/ email: Delva.campbell@wolverhampton.gov.uk