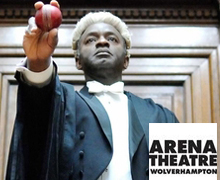 Just An Ordinary Lawyer
Organiser: Arena Theatre
Arena Theatre, Wulfruna Street, Wolverhampton, WV1 1SB.
Thursday 5th October 2017
Tunji Sowande arrived in London from Nigeria in 1945 to study law and pursue his interest in music. He rose to become a well respected barrister, the first Black Head of Chambers, and finally the first (parttime) Black Judge in Britain.
He was an active solo concert performer as a baritone singer, giving concerts for charities and to entertain residents of old people's homes. On top of it all, he was a great lover of cricket, and became a member of the Marylebone Cricket Club (MCC), the home of cricket.
In an undefined setting, Sowande muses on Imperialism, Colonialism and Black people's struggles for freedom, justice and human rights, in Africa and the diaspora. He is however not a political man – he prefers to do his job and watch sports. He is nonetheless does his bit to spread peace and love through the medium of music and song.
From the writer and performer of the multi-award-winning international hit, Call Mr. Robeson (**** First Rate, The Guardian) comes another "brilliantly put together history lesson delivered as art" (Dirt & Candy)..
Just An Ordinary Lawyer
Thursday 5th October 2017
Arena Theatre, Wulfruna Street, Wolverhampton, WV1 1SB.
Time : 7:30 pm
Cost:
£12 full price
£10 Concessions
Tickets can be booked through the Arena Theatre's website (arena. wlv.ac.uk)
by calling (01902) 321 321 or from the Arena Theatre Box Office.
Disabled Access: Yes
Open to Public: Yes
For further information email arena@wlv.ac.uk or visit arena.wlv.ac.uk