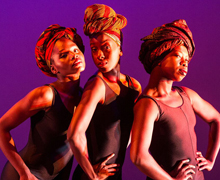 The Head Wrap Diaries
Organiser: Light House, and University of Wolverhampton
Newhampton Arts Centre, Dunkley Street, Wolverhampton, WV1 4AN.
Friday 13th October 2017
Hair – worn long, worn short, worn wavy or in braids – is the subject of The Head Wrap Diaries, a funny and uplifting dance theatre performance by Uchenna Dance. It's an interactive show set in a hair salon about people, and their ongoing relationship with hair.
Mixing dance, theatre and storytelling with a good dose of humour, stylists Linda and Riyah who will take you on a hair journey that will have you laughing out loud, thinking about your own (and everyone else's!) hair while you learn a thing or two about afro-hair, straight from the hairdresser's chair.
This exciting dance experience features a fabulously produced score by Ghanaian musician Kweku Aacht who provides a sizzling soundtrack of sounds from 90s R'n'B to traditional Ghanaian pop music.
A hands-on (and heads-on) head wrap bar will include head wraps for sale, newly commissioned art work, photography, dolls and examples of afro textured hair. Audiences will have the opportunity to learn and share different ways of tying head wraps. Bring your own piece of fabric or experiment with the ones provided. Explore your own personal style, create your own 'crown' and learn a new skill.
"Here is a performance that is engaging, authentic, culturally rooted and beautifully danced with an intelligent installation and (head) wrap-around programme" Ian Abbott,
The Head Wrap Diaries
Friday 13th October 2017
Newhampton Arts Centre, Dunkley Street, Wolverhampton, WV1 4AN.
Time : 7.30 pm
Cost: Tickets: £7 Adult,
£5 Concessions,
£20 Family Ticket
Disabled Access: Yes
Open to Public: Yes
For further information contact Christine McGowan Tel: 01902 572090