Denise Lewis was born in West Bromwich in 1972, seven years after her mother arrived in Britain. She trained with the Wolverhampton & Bilson Athletics Club then with Birchfield Harriers club.
Denise won a Gold Medal in Heptathlon at the Commonwealth Games in 1994. It was her first major Heptathlon win.
Denise won the Heptathlon Bronze Medal in 1996 at the Atlanta Olympics with a final points tally of 6489. She was lying in eighth place with two events remaining. Denise went on to make a 54.82m throw with the javelin which took her to third place She then completed the 800m in 2:17.41 to hold on to the bronze medal position. Denise was the only British woman athlete to come away from the games with a medal.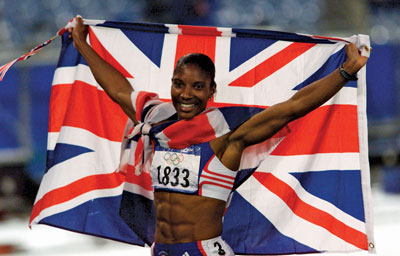 In 1996 she set a British record of 6645 in Gotzis.
In 1997 Denise took the silver medal at the World Champions in Austria, where she set a Commonwealth record of 6736.
In August 1998 she won the gold medal at the European Championships which was held in Hungary.
In 2000 Denise won the Heptathlon Gold medal at the Sydney Olympics. She competed with a foot injury during the event.
In 1996 Denise was awarded BBC Midlands Sports Personality of the Year.
She has been awarded an MBE in 1999 and an OBE in 2001. Denise finished runner up to David Beckham in the 2000 BBC Sports Personality of the Year Award.