Willard Wigan
Born in Wolverhampton. Willard Wigan grew up in Ashmore Park. His childhood years were blighted by the racism he experienced in school, primarily at the hands of the teachers. Wigan who is dyslexic was treated as educationally sub standard. He recalls on numerous occasions, being taken to other classes and ridiculed in front of the pupils. As a consequence he took to being a truant.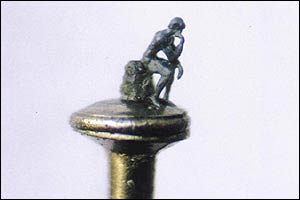 Before becoming a professional artist Willard worked in the construction industry.
He has produced sculptures from individual strands of hair, grains of rice and the thin end of cocktail sticks using a razor blade. Willard is the creator of the world's smallest sculptures as recognized in the Guiness Book of World Records. His skills, the quality of his art at a microscopic level is unsurpassed. Willard Wigan is undoubtedly one of the greats in the history of art.
Some of his creations were sold for more than £20,000 and in 2007 Willard sold his collection for £11 million. Mike Tyson, Prince Charles, Simon Cowell, Elton John, Phillip Green and Lord Bath are all private collectors of Willard's artwork.