Black History Month in Britain
Black History Month in Britain
In Britain, the drive toward recognising Black historical contributions began shortly after the first post war African-Caribbean migrants arrived in Britain. Across Britain the Black community organised supplementary education projects as a means of providing for the educational needs of Black children who were neglected, classed as 'educationally sub-normal' and racially discriminated against. The first post-war Black history lessons in Britain were taught in supplementary education projects. The Black community also campaigned against discrimination in the schools, and for the teaching of Black history in schools.
The promotion of Black history in education was and still is regarded as the best way of putting Black history back into the history books. Individuals like Eric Pemberton (the first director of the former Afro Caribbean Cultural Centre in Wolverhampton) were the pioneers who put African Caribbean Studies on the schools' curriculum.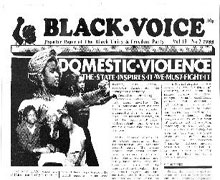 Activists within the Black community also organised cultural heritage events to promote knowledge of Black history and culture. Berry Edwards in Manchester organised Caribbean Week in the 1970s, and Eric and Jessica Huntley from Ealing regularly organised a Caribbean week in the late 1970s and early 1980s.
The Back community has also endured organised violence aimed at destroying Black authored books. The Black voluntary sector and Black business opened Black book shops in towns and cities across Britain during the 1970s. By comparison only one Black bookshop existed in the whole of France at that time. White racists extremists embarked on a campaign to burn out as many of these bookshops as they could manage. Despite their actions the sector survived.
During the 1980s the Caribbean Times newspaper promoted the 'Black Youth Annual Penmanship Awards' aimed at encouraging young Black people to write essays reflecting aspects of Black culture and history and the social consequences affecting Black people. The paper published many well researched and high quality essay written by young people. Many of these articles reflected a good knowledge of cultural and historical issue. Most of the young people who entered the competition benefited from the supplementary education movement within the Black community, nationally.
The establishment of the Black History Month celebrations in the United Kingdom gave the Black community an opportunity to bring its campaign to the attention of all peoples in the United Kingdom. It is not seen as the be all and end all, but a development on the road to redressing a series of historical lies written into the history of human civilization, and implanted into the consciousness of people worldwide.
Black History Month in Britain took place for the first time in London on October 1987 on the recommendation of the now defunct London Strategic Policy Committee as part of their African Jubilee Year Marcus Garvey Centenary Celebrations. By the 1990's voluntary, statutory and private sectors have been celebrating BHM on an annual basis in October.