Slavery History Trail (Wolverhampton)
A significant number of slaves were brought to Britain throughout the Transatlantic Slavery era. Many of these slaves ended up as servants in the homes of the rich.
Slaves could be found all over Britain, though mainly concentrated in London and the port cities of Bristol and Liverpool.
Records show at least three slaves in Wolverhampton. There may have been more.
The Slavery History Trail maps the sites in Wolverhampton with links to slavery. Sites featured include buildings whose construction was paid for from the proceeds of slavery; places where slaves resided; churches where slaves were baptised; and sites where companies profiting from the trade were based.
So far BLHCAP has identified a number of sites associated with Wolverhampton's slavery past.
BRICKKILN LANE
Henry Waldram is listed in the 1767 and 1770 Trade Directory as a maker of 'Negro collars'.
EXCHANGE STREET
The home of Button Gwinnet can be found on Exchange Street. Gwinnet did not own slaves when in Wolverhampton, but he became a slave owner after migrating to the USA.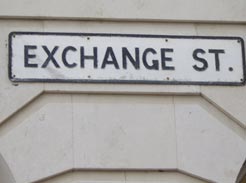 LICHFIELD STREET
Henry Pearson whose family had links to the slave trade lived in Antigua, but owned a house in Lichfield Street.
FRYER STREET
Site of the Chubb Buildings where locks (and chains) were manufactured for use on plantations in the Americas.
MOLINEUX HOUSE
George Skipio Africanus Molineux
Born in Sierra Leone. Baptised at St. Peter's Church.
Became the slave of John Molineux. The Molineux family were iron merchants. They imported sugar and rum from the West Indies and traded metals to Africa.
In 1770 he became an apprentice to learn hairdressing. Lived in a top floor servants' room at Molineux House. A photograph of George exists today. He was picture standing on the site of what is now Molineux Stadium.
As a free man George moved to Nottingham where he married a white woman. They lived in Victoria Street. The couple went on to own and rent out properties in Nottingham. George also had possession of a boat. He was literate and had the right to vote. He would vote for the Wigs of Nottingham. The couple had 7 children. One, Anna survived to adulthood. George died on 19th May 1834 and was buried at St. Mary's Church. His descendants can be found in Surbiton.
St PETER'S CHURCH
George Skipio Africanus Molineux, Richard Crosby Africanus, John Towels
All three were baptised at St Peter's Church. George Skipio Africanus Molineux was baptised on 31 March 1766 Richard Crosby Africanus was baptised on 8 July 1771 and John Towels was baptised on 25 January 1785.
TEMPLE STREET
Abolitionist Rev. James Wraith preached at Temple Street Chapel.
TETTENHALL TOWERS
Built by Thomas Pearson.